In DearMyrtle's blog: Myrt learns about FTM 2012 from her cousin, includes a webinar in which her cousin Russ Worthington introduced FTM to her. What particularly caught my attention was his mention of an interesting feature in FTM 2012 (or any version since 2008) that I didn't know about: An individual's timeline and the ability to add family events (births of children, deaths of parents, etc).
In FTM, if you select the "Person" tab, and select the "Timeline" button, you will see all the events for an individual in order of date. It gives the year, person's age, the event, date and place and sometimes a description.
Now if you then select the Timeline button's dropdown arrow and select "Show Family Events', then FTM will add to the green individual events, a number of pink family events.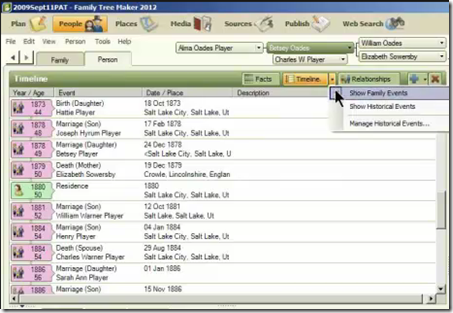 Here you can see it's got births, marriages and deaths of children and parents.
Hmm. Doesn't this seem a lot like the Life Events that I recently blogged about? Well, yes and no. First, I was pleasantly surprised to see that FTM has this feature. They got their foot in the door, but should have made it more important a feature and carried it further. They have it several clicks deep making it difficult to access (or even discover), they do not include sibling events, and although a table layout may seem convenient, their particular setup is not easy to reference or visualize because their two line format interferes with your eyes' scanning mechanism.
Randy Seaver had explored FTM's TImeline feature prior to my taking notice of it. He reveals that facts for siblings and grandparents and other relatives were not added to the list. I've thought about this with regards to Behold's life events. I think it is important to include sibling events, since the sibling usually live together and therefore their lives affect each other directly, especially during childhood. Whereas grandparents and others usually live away, and are seen less often. I would, by default, exclude their events, because there's a trade-off between what's most relevant, and what's too much. Randy disagrees about grandparents. I'll think about them some more.
Then you'd want extended families included, e.g., half-siblings, step-siblings, adopted relatives, 2nd marriages, etc. I'm not sure if FTM detects and displays those correctly or not in their timeline, but I doubt it does.
Randy also noted the non-usefulness of the ability to add historical events which usually are not relevant to most people. I agree on that, and think that one day in a future version of Behold (after version 2), I'd like it to have the ability to add events to places (e.g. so you can note celebrations or catastrophes that happen in your ancestral towns) and then if your relative was living in that place, the event would be automatically be added to their life events, and it would be a significant event to them.
I'm intrigued and impressed that FTM had thought of putting this in, although I think they only did part of the job. I'm glad I found out about this,because it is helping me decide just what it is that genealogists really need in life events that will help them visualize the life of their ancestor.
I'm sure there are other programs that display individual event time-line data in a similar or different ways. If you know of any that do a good job of this, please let me know.