One of the basic tools all genealogists have always used, even before computers, is the Family Group Sheet. Basically, this is a page where you record the information about a husband and a wife along with their children. The idea was you would record all your basic information about a family on one Family Group Sheet, and make up one sheet for every family you're researching.
In the old days, you used to get blank Family Group Sheets from your genealogy society or from a book on genealogy and you'd photocopy as many of them as you'd need.
The Family Group Sheet is supposed to help you organize what you know about each family, and lay it out in a way that is supposed to help you in your genealogy research. Does it do it's job? Well let's analyze this and see if it's the case.
First what we need to know is what information a Family Group Sheet actually contains. This is not precisely definable. In fact, many variations of a Family Group Sheet exist. And every single one of them is limited, because you can only jam so information on a single page. Most contain the same basic information, just laid out differently. Check out the wide variety of Family Group Sheets images on Google for a sampling of how varied they can be.
Here's an example of one which packs almost as much information as is possible on a single page::
At the top third of the page you've got information for the husband and the wife. There's room to enter dates and places for 5 different events: Birth, Christening, Marriage, Death and Burial. You can list their Places of Residence, Occupation, Church Affiliation, Military Record, Other Spouses, and their Father and Mother. Some of these items must be squeezed into a a very small space where no more than one or two words will fit. There's also a bit of room at the right for additional information on the husband and the wife.
The bottom two-third's of the page has room for up to 10 of their children. For each child you can enter dates and places for 4 different events: Birth, Marriage, Death and Burial. You can enter the name of their spouse, and there is a column you can squeeze in additional information, which on the above example was used for the children of each child.
Some Family Group Sheets can even include pictures of the people and be spread across two pages, one for the husband and 5 children, and one for the wife and more children, such as these:
Now wouldn't we all just love to have a couple of pages like these for 1024 (10 generations) of our own ancestors!
Genealogy programs today can produce Family Groups Sheets. Many of them look similar to the printed forms and include mostly the same information. That is fine and good if you want to print them all out.
Most of the time, you access and edit the information directly in your genealogy program. You normally do this on a Family Group form. They look similar to a Family Group Sheet, but you are restricted even more as to what information is on the form due to the number of pixels that can fit in a window. The various vendors work very hard on this form, because they want them to be usable.
Here is an example of RootsMagic 5's Family Group form: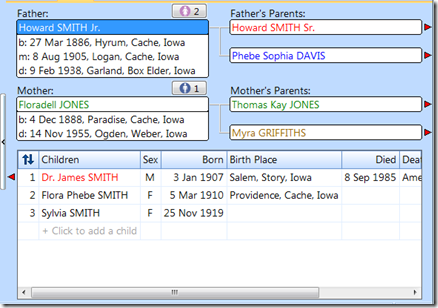 And here is Family Tree Maker 2012's: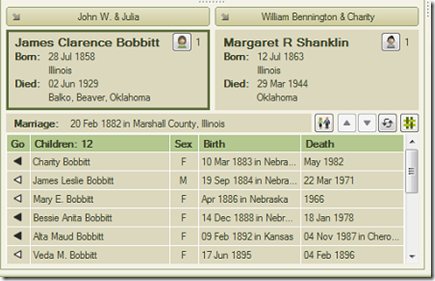 Now for the big question. Is the Family Group Sheet and the Family Group form useful in helping you visualize the life of your ancestors?
Well, they definitely do summarize the information about the family well. They show some facts. They show names and dates and places. The raw data appears to be there.
… but something is missing. I just don't get a sense of what the life of that family was like.
I want to know how the events of a person's family affected each member of the family. Did a person's mother die when they were young? How old was the younger sister when her older brother was killed in WWII? Which children were adopted? If the wedding of the child was in a different city, it might wonder how many of their family might have attended. If so, they may have met and other relatives in that city and that's where the bible information about their grandparents came from. Or maybe they eloped and never saw the family again. There's lots of clues that can be put together if the information is laid out in a helpful way … but it really isn't.
That's enough for now. I'm going to make you wait until my next post when I describe my idea of "Life Events" and how that concept can transform this family information into something useful you can really use.